We have a couple of books for you to check out!
CONSENSUS BOOKS
Rules for Reaching Consensus
by Steven Saint and James R. Lawson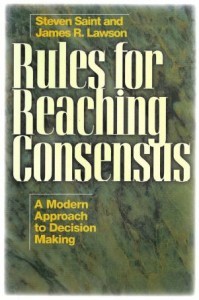 A Robert's Rules  alternative for collective decision making
Does your organization struggle with the collective decision-making process? If the answer is yes, this book is for you.
Devoted to group decision making, this guide teaches you:
* The benefits of using a consensus process
* A step-by-step process and rules for reaching consensus
* How to run a consensus-management meeting
* How to facilitate the consensus process…and more!
Learn how to lead your group to consensus!
---
Consensus Rules (Kindle edition)
By Steven Saint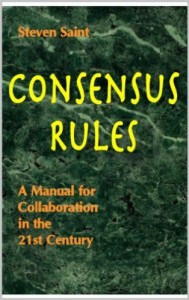 The Collaborative Paradigm is here! This step-by-step alternative to Robert's Rules of Order will help your organization break through competition, ego and vote-counting and on to reaching Consensus.
---